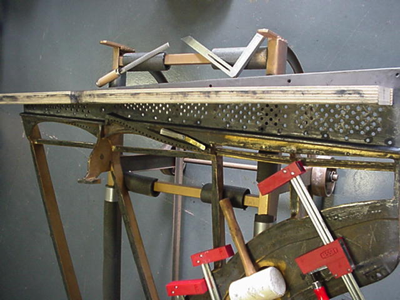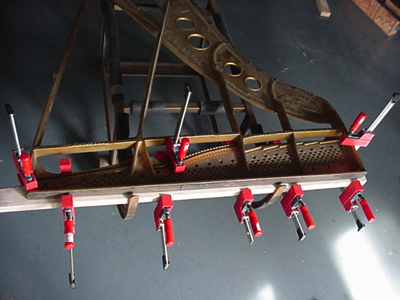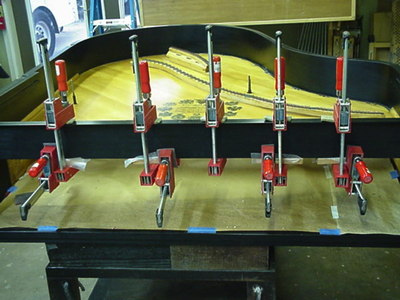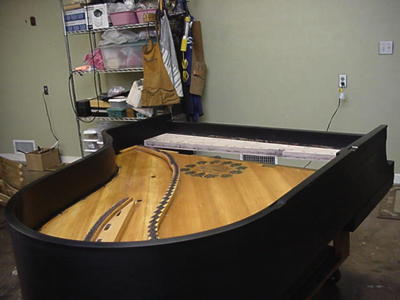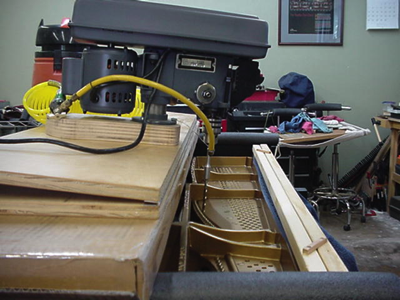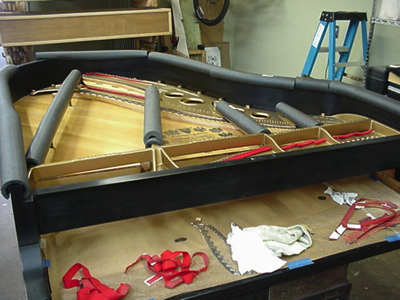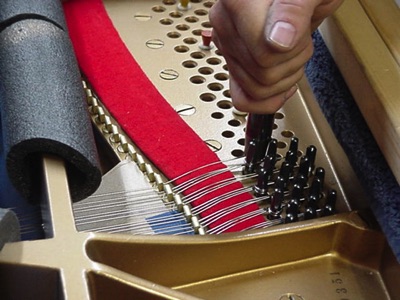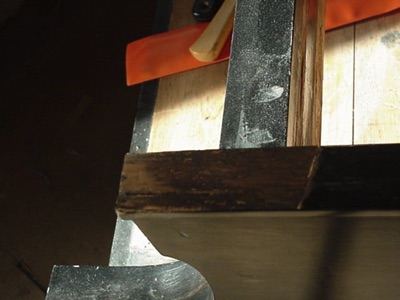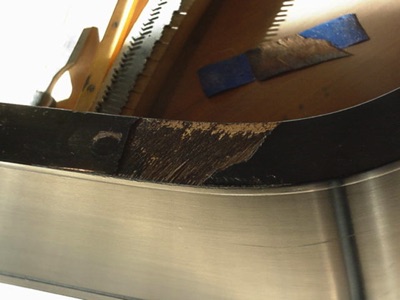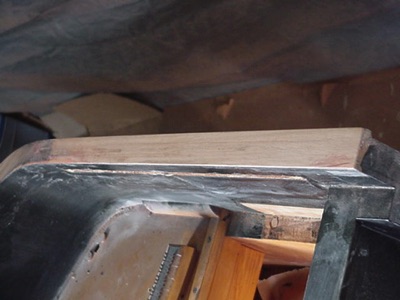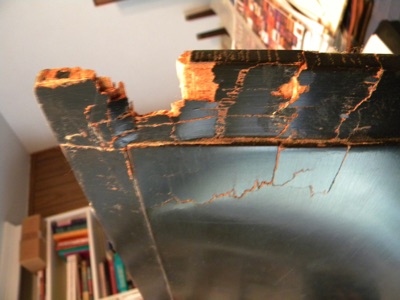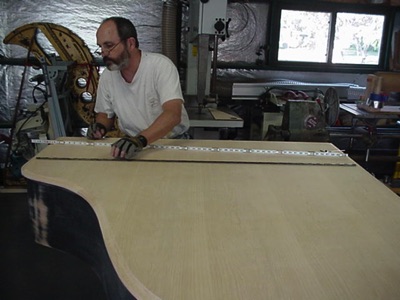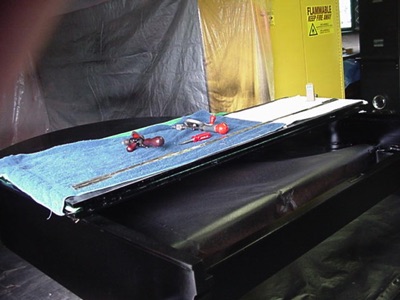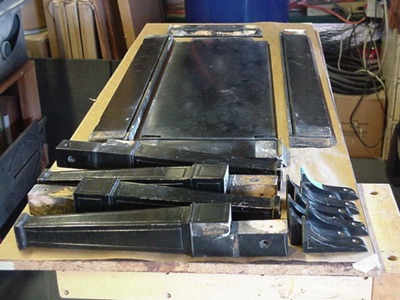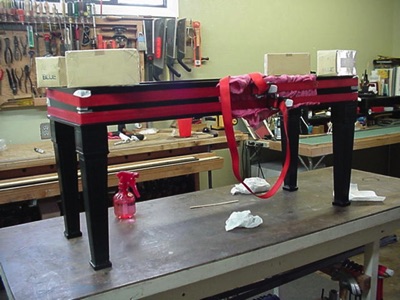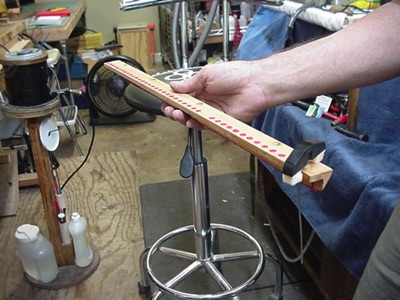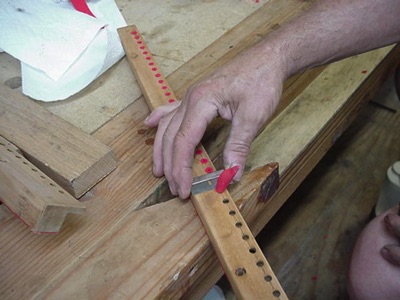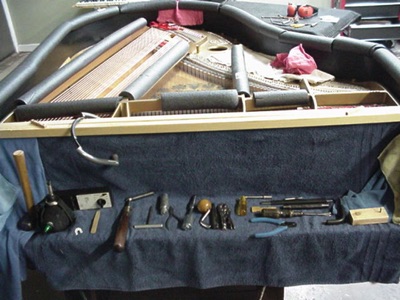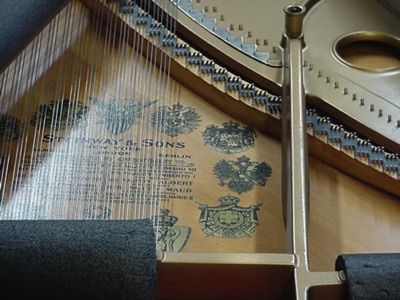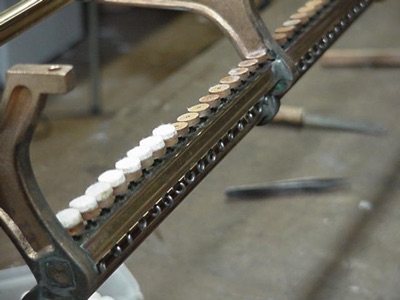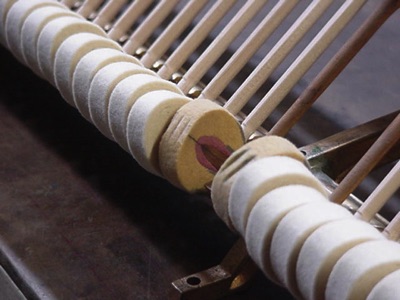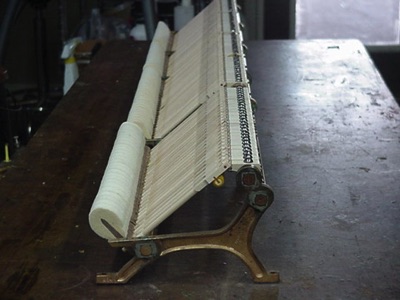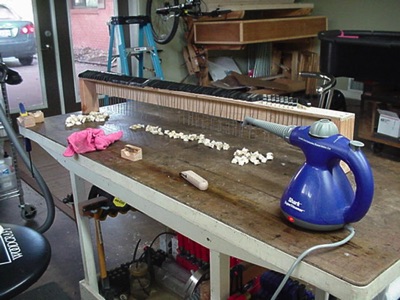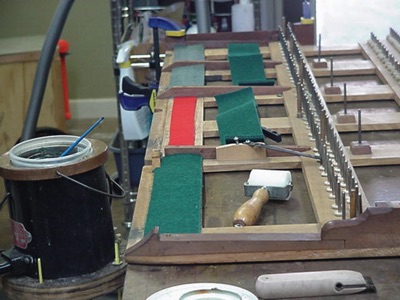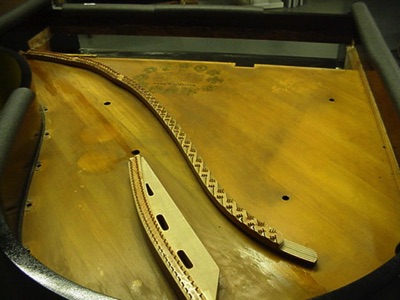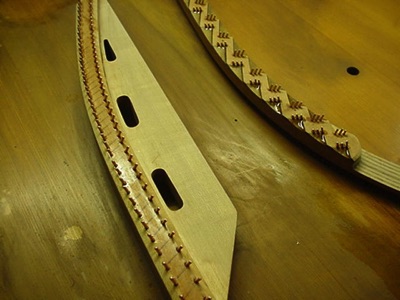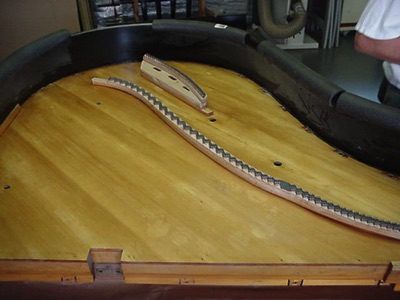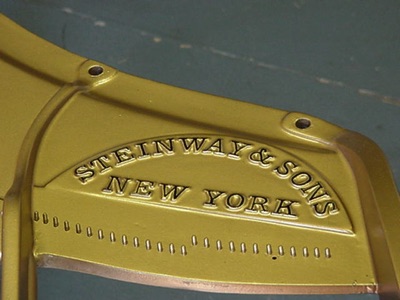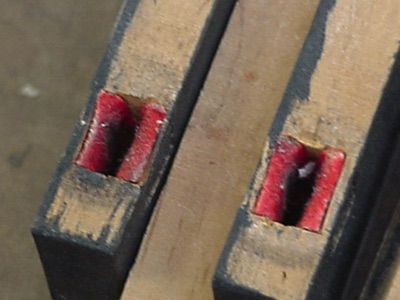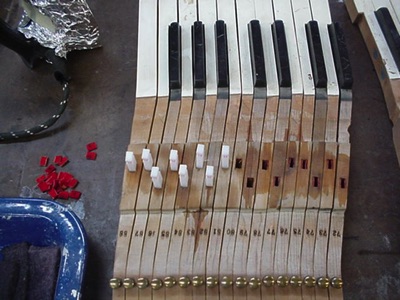 Carpet beetle egg remnants in the key bushings.
© Ward and Probst, Inc-1998-2014
This is a very rough cut blank to replace the tuning pin block or wrest plank for this piano.
The block being fitted to the plate or harp using clamps to hold it aligned.
Carbon black shows a decent fit along the plate flange, just a little more work to do.
Sound board needs a little cleaning!
Bridges have been repaired and new bridge pins installed.
Bridges and sound board have new finish, sound board decal is installed next.
Sound board and bridges done, pin block reading to glue into case.
Pin block clamped, glued and doweled into place.
Plate felt and aliquot bars being installed. Insulation protects the newly finished plate anc case rim.
Hand lettered plate detail.
Marking the tuning pin field for drilling.
Drilling the block in the piano.
Installing tuning pins and stringing.
Tools for installing tuning pins, strings and chipping the strings up to pitch.
Stringing the tenor, over the new decal, careful there lad!
Moving damage to the original lid. There was more damage to the larger part of the lid and it was decided to replace the lid.
Additional damage to the top of the rim below the lid.
Yet mored damage to the treble side of the rim.
We decided to replace this section of the rim cap with a new piece of mahogany.
Dale begins to fit the new lid.
After finishing the case and lids, the hinge is installed to connect the large and small parts of the lid together.
The original Steinway bench needed a little work too!
Final glue up with tuning pins for weights on the corners. These benchs were very well made but 100 years wears on anyone.
Damper guide rail bushings were removed and replaced.
This job is often skipped but we find it makes dampers more efficient and is worth doing well.
Replacing the let off buttons on the cleaned action rails. Another job that is often ignored but which pays to do.
New hammers beside the well worn originals.
New hammers and shanks on the action stack.
Old damper felt removed and damper heads ready to be refinished.
New back rail cloth and punchings.
Removing old key bushings, sizing mortices in preparation for new key bushings.