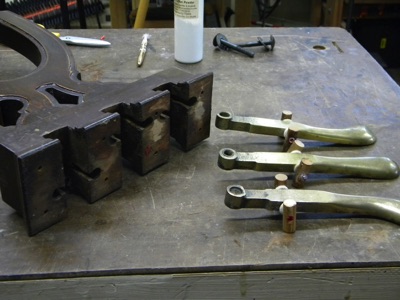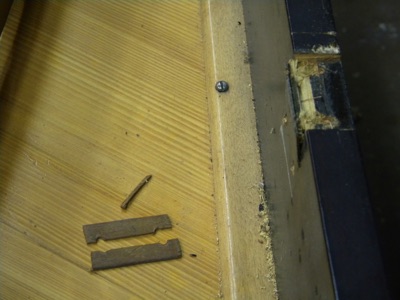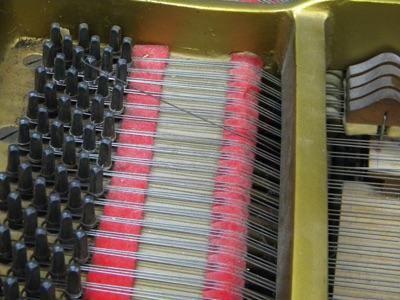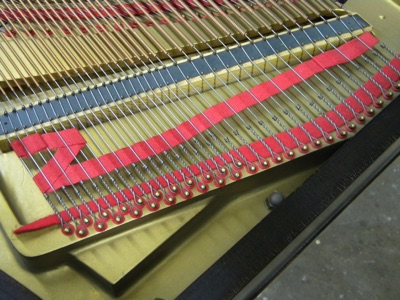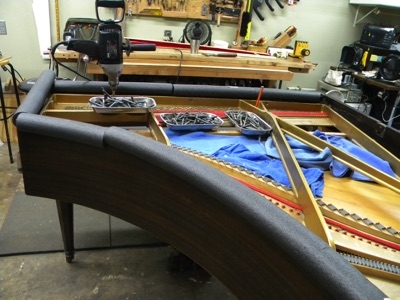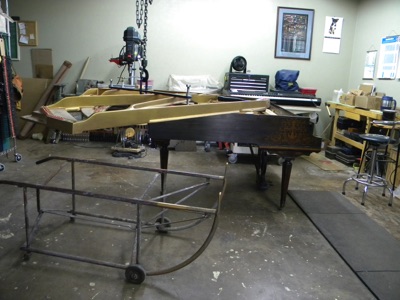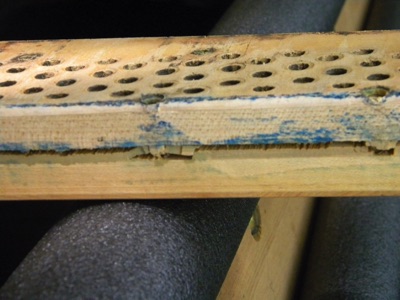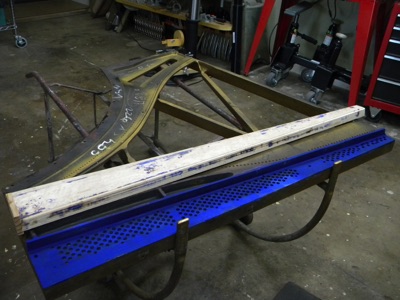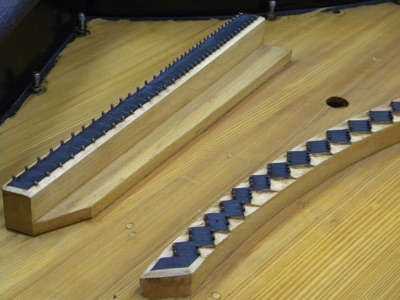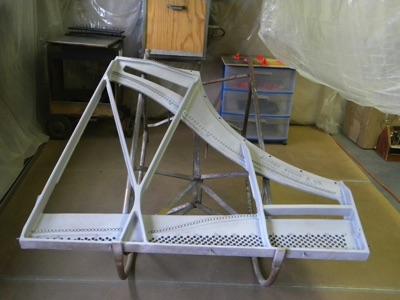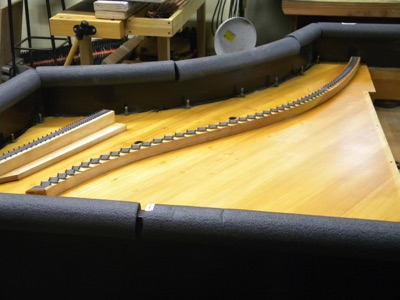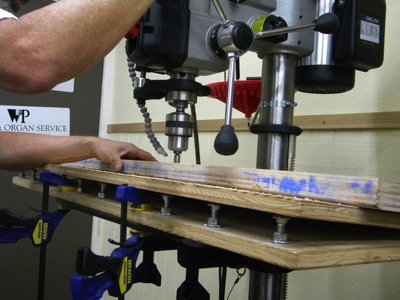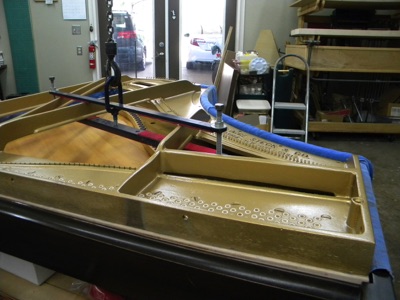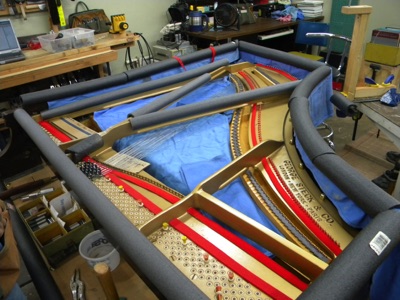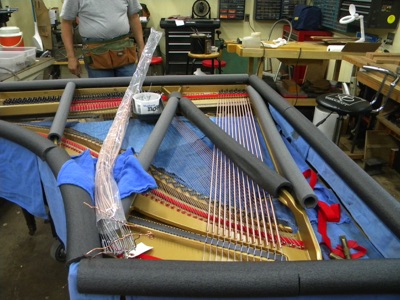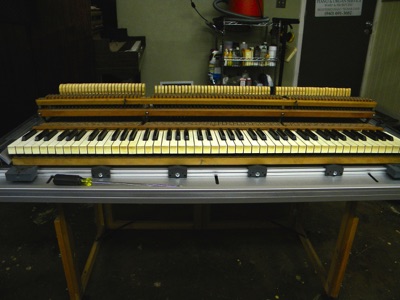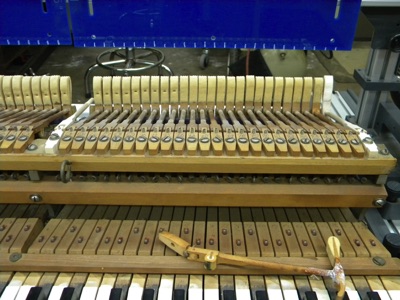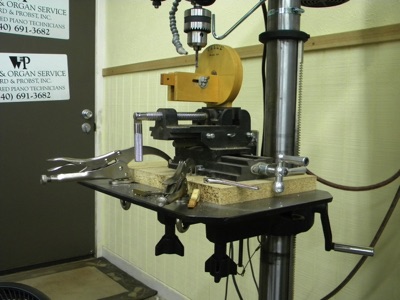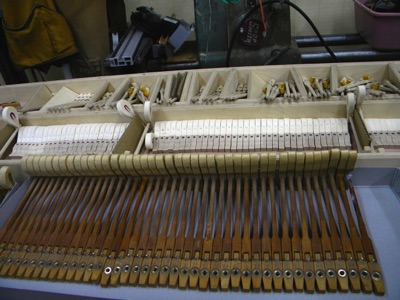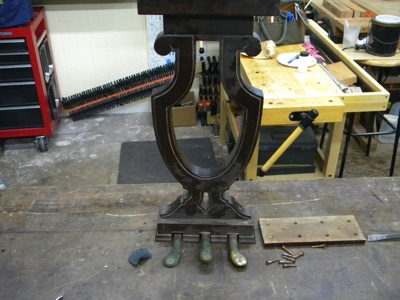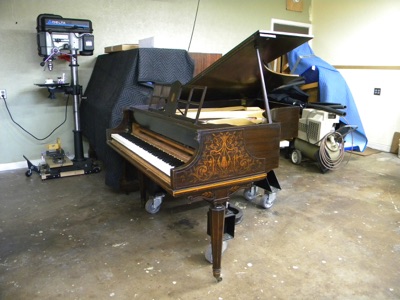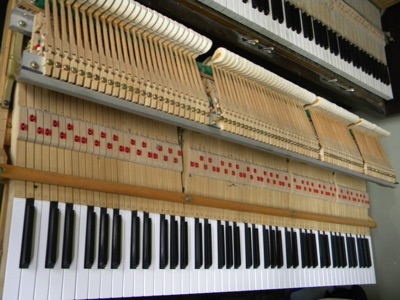 Every now and then we run into a piano that exceeds our expectations. This short Steck grand is one such instrument. From design factors to the unique square case with decals it was a pleasure.
Even the pedal lyre was different though a critter evidently thought it was an outhouse; everyone's a critic these days.
We routinely disassemble pedal lyres, clean the pedals and refelt which was much needed in this case.
Strings were corroded at the bearing points and beginning to break during playing.
The bass section was nicely designed with a straight bridge and long back scale.
Taking out old tuning pins in preparation for removing the plate.
It is a tight fit but the plate comes out of the case nicely.
The pin block or wrest plank is delaminated all the way from end to end. It appeared that someone had driven the pins deeper without supporting the block.
A new custom fitted block ready to install.
Bridges cleaned up and reinforced.
Plate or harp is primered and sanded to fill all the littel dings from the last seventy five years.
Soundboard is refinished, polished and waxed.
Countersinking the bottom of the tuning pin holes for the elegant touch.
What came out must go back in without marring the new finish.
Plate felt in place, protection on plate, ready to string.
Tenor is strung, bass is on the way to completion.
An unusual touch, key bedding glides in the key bed instead of the key rails; we like it!
The action in the Grandworks™ regulation station in preparation for installing new shanks and hammers. See TPR Tools in our Links section for more information.
Guide hammer on C88, new shank on lowest note of the treble section.
Hammer boring station with Brooks hammer boring jig.
Old hammer shank assemblies off, new hammers bored and ready to hang.
Action ready to install, regulation has been done on the regulation station.
This piano turned out very well. It plays great and the rescaled bass is phenomenol for a piano this size. Thanks to Arledge Piano Strings for a great job on the bass strings!
© Ward and Probst, Inc-1998-2014